Tag Archives: Skiing
I rediscovered skiing in December of 2015 in Stowe, Vermont. I love it.
Ski Resorts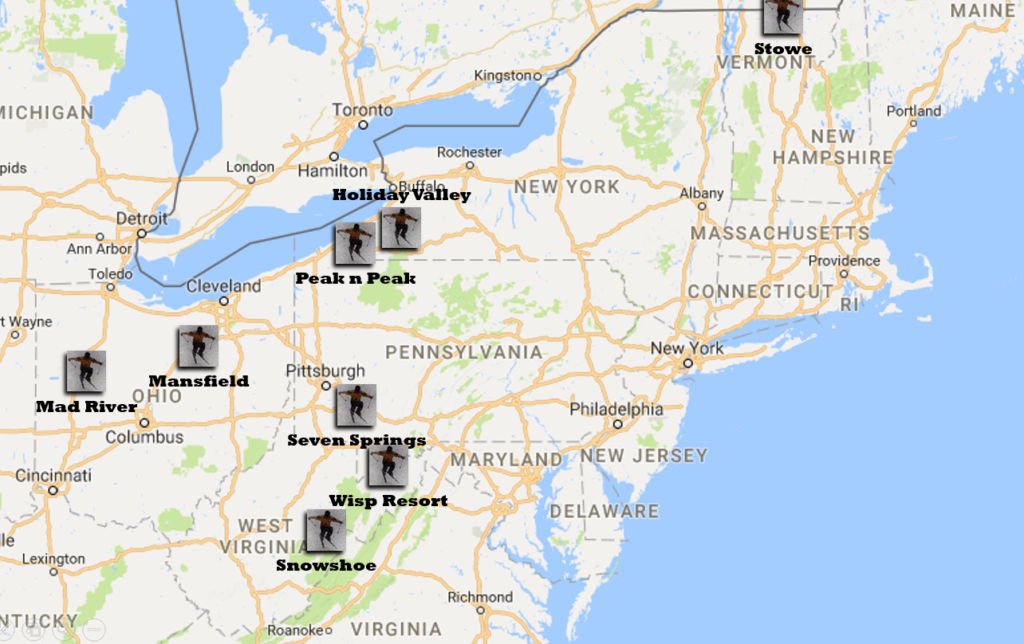 Snowmass: 3,362 acres, 4,406ft vertical.
Vail: 5,289 acres, 3,450ft vertical.
Breckenridge: 2,908 acres, 3,398ft vertical.
Beaver Creek: 1,815 acres, 3,340ft vertical.
Keystone: 3,148 acres, 3,128ft vertical.
Stowe: 485 acres, 2,360ft vertical.
Snowshoe: 244 acres, 1,500ft vertical. Very difficult drive Greg says.
Holiday Valley: 290 acres 750ft vertical.
Seven Springs: 285 acres, 750ft vertical.
Wisp Mountain: 132 acres, 700ft vertical. Greg and Pat have been. It is an easy drive from the interstate.
Peak n Peak: 130 acres, 400ft vertical. Ed, Greg, and Thad have been. Good?
Perfect North: 100 acres, 400ft vertical. Rachel's suggestion. 45 minutes west of Cincinnati.
Check out OnTheSnow snow report app. Pat uses it for snow storm alerts.
Rule #1: maximize time on skis, so get in shape. Every time down the hill you learn something!
Monday
Watch a skiing YouTube video.
Go down the hill without hurting yourself.
Tuesday
Keep skis together (easier said than done) and put weight on the downhill / outside ski.
Should be able to lift inside ski off the snow. Rotate hips, tighten core.
Wednesday
Rotate around the inside pole, not the outside! Use it to lift weight and shift.
Mogul drills: point out each mogul with pole and negotiate them half-speed.
Thursday
Don't land on top of moguls to control speed. Moguls are a horizontal obstacle. Center of gravity goes over mogul, skis go around.
Weight transfer up and down to shift skis side to side. Center of gravity travels in a straight line.
Friday
Get off your heels. Press toes of foot on the outside ski. Ski on the ball of outside foot.
Inside ski with no weight goes forward of outside ski. Do this by pushing inside knee forward with hip flexor.
Week 2
"Walk" down the hill with poles. Keep "3 points of contact."
Expert Source:
We took a family ski vacation to Stowe, Vermont last week. Stowe was awesome and the vacation was perfect. The snow came just in time.
I hadn't skied since 1995, so I started from scratch and took notes. It was a blast and I'm hooked. Next time I go I want to pick up where I left off, so here is what I learned: