Thursday, 4th
Friday, 5th
Watched opening ceremony at Holland Heineken House. Olympics under way in good fashion. Brazilians breathe sigh of relief.
Saturday, 6th
Men's Field Hockey with a group of five Irish girls who just arrived from a five-month tour of South America. Field hockey can remain a women's sport in America as far as I'm concerned.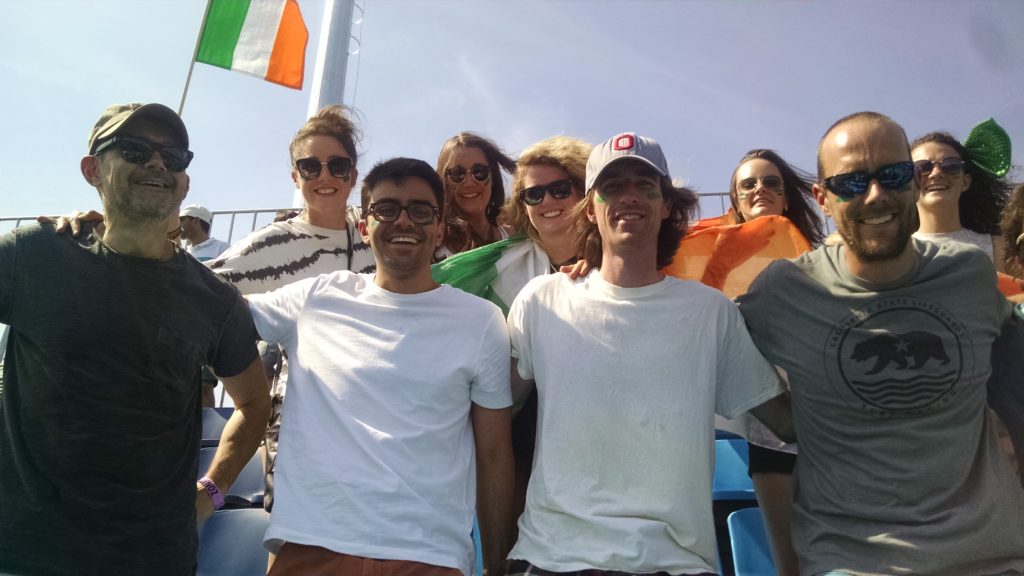 Sunday, 7th
Table tennis. Watched Brazilian hopeful, Hugo Calderano, win his match. Obviously the home favorite. Had given two extra tickets Brazilian couple in line, they got to see also before attending their boxing ticket. Watched Japan player beat Segun Toriola of Nigeria. Segun was clearly having more fun in his 4-2 loss than the other players. Crowd favorite. Turns out he's the first African to compete in seven Olympic games. He debuted in Barcelona. He has never medalled. Brazilians take selfies with him after the game.
Basketball. Watched Pau Gasol (weak) have his game-tying shot swatted at the buzzer for a Croatia upset. Priceless.
Swimming. ~3 WRs, Brit dominated breaststroke, Katie Ledecky dominated 400 free, Michael Phelps wins gold with 4×100 relay. He's medalled before.
Monday, 8th
Skipped super-early water polo tickets.
Watched two sessions of beach volleyball in awesome venue on Copacabana beach, including a Brazil match and two of USA. Final match was USA women beat China.
Tuesday, 9th
Learned that rugby sevens is a cool sport. Man sport. For men built like running fire hydrants. Japan won it's first rugby match ever upsetting New Zealand. USA lost a heart-breaker. Took a selfie with Nate Ebner's (NE Patriot from Dublin, OH) mom. Unfortunately Matthew McConaughey was there, but his Brazilian wife looks OK.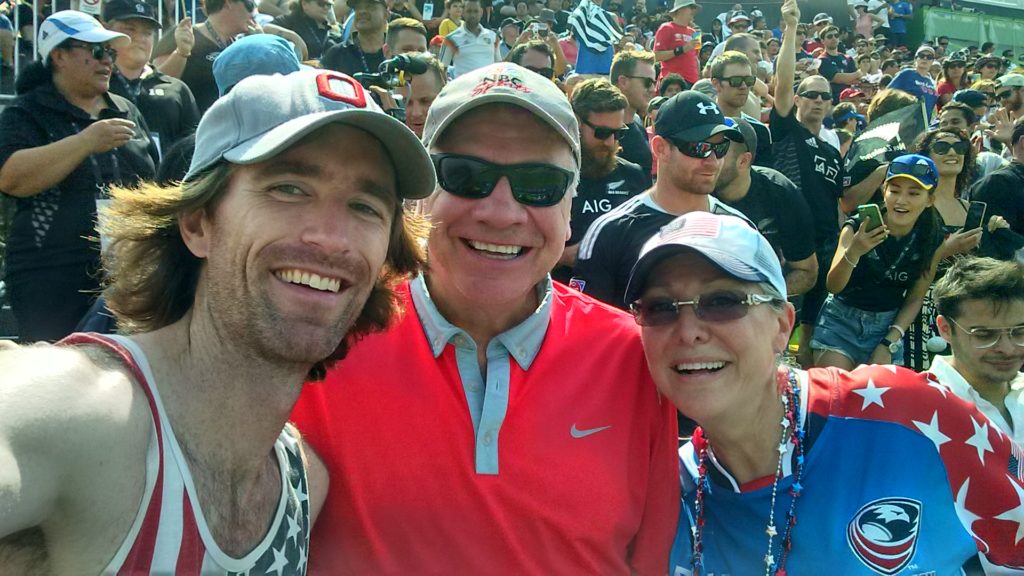 Rugby Sevens
Like a full-field wrestling match cross fumble pileup cross last-chance kickoff laterals. Literally 20 minutes for an entire game. How can that be? Because they're wrestling and running at the same time and they play 2 or 3 games per day in tournaments.
Injury = power play. There was a guy laying on his back holding his face and kicking the ground with his foot. Once play stopped, they brought the meds out, but his own players weren't even paying attention. It looked like they were gonna rope off the area and play around him.
Wednesday, 10th
My friend departed for the states the night before. Took the day off.
Most we paid for tickets:
Beach volleyball $60
Swimming $40. Yes, $40
Others less, as low as $13