Entropy
As you see this technology progress, it is natural to think, "Oh, we are so smart now, we know how to make tiny drones fly." Alternatively, consider our (humanity's) success within the concept of entropy. The law of entropy (Second Law of Thermodynamics) states that all systems tend toward disorder, and that energy is required for complexity to develop. Applying this broadly, improved drone flight is complexity. In order for drones to improve, energy must be applied in the form of human thought, manufacture, etcetera. Also, at the drone level, the drone must have energy on board both to fly and to power the tiny computers to control itself. Controlled flight is complex! Put this way, it is not that we are so smart to make these drones, or that the drones are so smart to control themselves. We have the excess energy to dedicate to engineers and academics to think about this complex stuff, and the drones have great modern batteries to deliver energy to efficient tiny computers to fly in totally cool complex ways!
1970s: The CIA's Insectothopter, The CIA's Own Channel on YouTube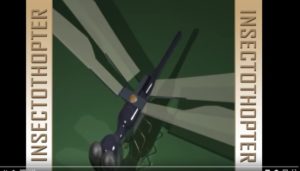 Notice that battery life (lack of energy) was a major limiting factor.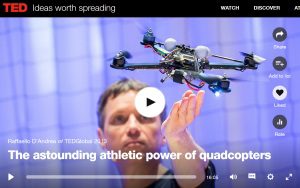 Notice that some of the flight control computing was being done on computers in the room, not on board the drones themselves. Energy is a factor here as much as or more than the size and weight of the processors. Computing all of the complex control on-board the drones would consume more power. The battery would be larger and heavier, and/or drain faster. Energy!
~2016?: Drone Swarm Dropped from F-18s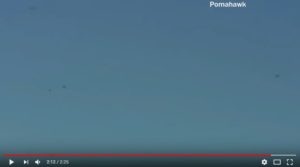 There is not a whole lot to see in the video, but it looks real to me.
2018: 8 January, Bellagio Hotel, Las Vegas by Intel, posted by LV Sun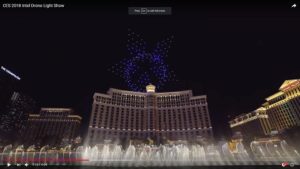 This was the best drone show video I could find. How appropriate that it's in Vegas. US's gambling capital => $$$ => energy => spectacularly complex drone show!
The lights in Vegas have always impressed me. Walk through any normal US city with a normal number of lights, and at any given time, you can find some lights that are burned out within sight. Now try that walking around Vegas with 100s of times as many lights as a normal city and you will go hours without finding a single burned out light. The energy being expended in Vegas is spectacular. (Do they have an ordinance or something? If so, expensive to maintain.)
20__, Future (…?): Dramatization of the Potential of Weapon Drones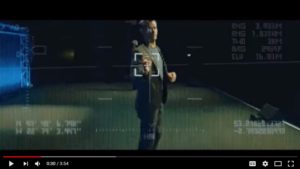 This video is a dramatization, but it's not that we don't know how, we're smart enough, … we just need a better battery.